Poem: The Last Graveyard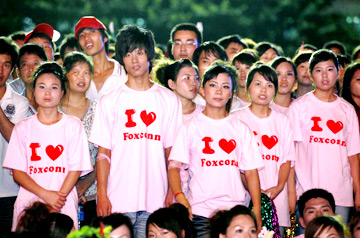 Ed: This is a poem by Xu Lizhi, a 24 year old worker at a Foxconn factory in Shenzhen who killed himself last September. It was translated at the Nao blog, who are happy with other sites republishing the poems. Over at Beijing Cream, Anthony Tao has also posted another couple.
For context, also check out this interview Alec Ash did a while back with Li Liao, an artist who went undercover at a Foxconn factory. He said of the suicides: "I think it was mostly out of despair ... If they leave they are unemployed, and can only go back to their old homes and start a small business. They feel they have no way out."
《最后的墓地》
"The Last Graveyard"
机台的鸣叫也打着瞌睡
Even the machine is nodding off
密封的车间贮藏疾病的铁
Sealed workshops store diseased iron
薪资隐藏在窗帘后面
Wages concealed behind curtains
仿似年轻打工者深埋于心底的爱情
Like the love that young workers bury at the bottom of their hearts
没有时间开口,情感徒留灰尘
With no time for expression, emotion crumbles into dust
他们有着铁打的胃
They have stomachs forged of iron
盛满浓稠的硫酸,硝酸
Full of thick acid, sulfuric and nitric
工业向他们收缴来不及流出的泪
Industry captures their tears before they have the chance to fall
时辰走过,他们清醒全无
Time flows by, their heads lost in fog
产量压低了年龄,疼痛在日夜加班
Output weighs down their age, pain works overtime day and night
还未老去的头晕潜伏生命
In their lives, dizziness before their time is latent
皮肤被治具强迫褪去
The jig forces the skin to peel
顺手镀上一层铝合金
And while it's at it, plates on a layer of aluminum alloy
有人还在坚持着,有人含病离去
Some still endure, while others are taken by illness
我在他们中间打盹,留守青春的
I am dozing between them, guarding
最后一块墓地
The last graveyard of our youth.
– 21 December 2011
•
We're putting the call out for original poetry submissions. Email us to get in touch with Anthony