Hutong life
Two views of a Beijing alley – by Christina Larson
THIS POST ORIGINALLY APPEARED AT LARB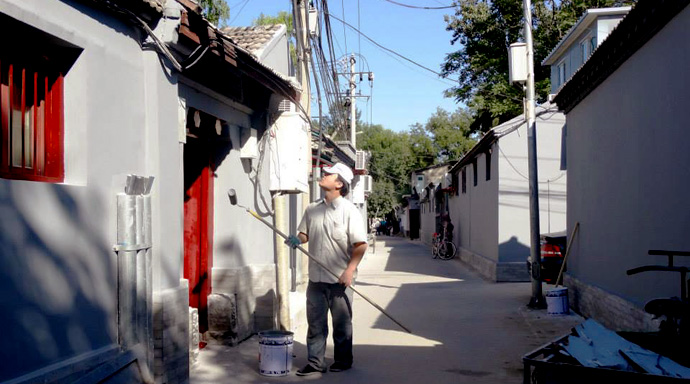 "Two dogs?"
A girl came up behind me wearing the bright blue and red track-suit school uniform of Beijing Number 5 high school, on the same alley I live on in central Beijing. She admired my larger dog, who came up to sniff her hand. In any country, walking dogs is a good way to meet strangers.
We heard a horn behind us, and moved out of the centre of the narrow alley to the steps in front a small grocery, busy restocking.
"People are so aggressive these days!"
"These hutongs aren't really designed for car traffic," I said, blaming the wealthy parents of her classmates for bringing their SUVs down our pedestrian streets.
But she corrected me: "Teachers are allowed to drive down the hutongs, but parents aren't.
It seemed a weird rule to her. "We both agreed most of the drivers probably weren't affiliated with the school.
These strange rules and narrow lanes were exasperating to her, and she was glad she now lived in the comparatively modern nearby neighborhood of Dongzhimen, where the main intersection is flanked by three large shopping malls, one of which has a massive TV screen whose flashing ads are a useful beacon in the smog.
"I love it there. It's modern. My parents moved so we could have a bigger apartment."
But Beijing's best schools are still mostly located in the cramped alleys of the centre of town, within the circle of the old city walls, now paved over by an expressway. Spots at Beijing Number 5 are highly coveted.
Students like her move between these two worlds daily: narrow lanes with sidewalk vegetable markets, laundry lines, old men playing Chinese chess, mahjong parlours clattering with tiles and cash on the table, parked three-wheelers and carts, their drivers taking midafternoon naps – and the cavernous modern shopping malls, and airport-expressway hub of her family's new life.
Then she asked me, as a bicyclist towing a metal vegetable cart clattered by, "What are you doing living here?"
However often I'm asked this question, I'm still usually at a loss for what to say. To young Chinese, brimming with energy and excitement about exploring the world and leaving the old behind, the idea of a foreigner choosing to live in a part of town she sees as dirty, cramped, and backward is hard to explain. There aren't many young Chinese people who live here by choice, or much to seize their imagination.
My neighbours are mostly the middle-aged and elderly running small stalls or neighborhood businesses, intermixed with a few of the very rich who favour old-style courtyard houses with garages adjusted to take in their cars. Last fall, the city government painted the walls of neighborhood buildings a uniform gray, with standardised deep red trim for doorways and windows.
Meanwhile, many of the things she abhorred or felt bored by – the low two-story buildings with tiled roofs, the relative quiet and village-like quality in the middle of a big city – are exactly what many young foreigners find enchanting, perhaps reminding them of the China they imagined before they actually arrived.
And so the same old downtown area has become a hotspot for hipster expats, including, I admit reluctantly, myself, who ride bikes, watch earnest documentaries, do tai chi on our rooftops, and work for media companies and nonprofits. And now catering to us, the hutong has both a Moroccan bar, and a gourmet granola shop. It's easy to caricature the foreigner who comes to China, inhabits this world, and thinks it's the real China – even if real Chinese people, by and large, wouldn't chose it themselves.
"It's different than where I came from," I said, realising this was an inadequate answer. "I guess that makes it interesting."
She nodded, considering the logic.
"Maybe that's also why I like Dongzhimen," a high rise area of town which she moved to about the same time I moved to this hutong.
Right now, she comes here every weekday and sometimes on Saturdays for school, so it's impossible for her to be at all nostalgic. "Maybe I will miss when I'm gone for good. I don't know yet."
As we came to the main road at foot of hutong, reentering modern China, she tried on another perspective, "This place is better for dogs."
•
Christina Larson is a writer and journalist in Beijing, where she jogs despite the smog
This post was first published at the LARB China blog