The Girl on the Dock
Tragedy on the Yangtze – a reporter's vignette by Mia Li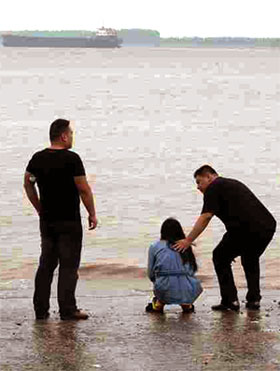 I first saw the woman on the dock by the muddy banks of the Yangtze, while droves of soldiers in camo ran to and fro from the supply barge. I was in a huddle of reporters and TV crews, covering the capsized cruise ship along with the rest of China's media, foreign and domestic. She stood to one side, out of everyone's way. She was tall, wearing dark blue rain boots, denim shorts, a black t-shirt and small cross-body bag, her long black hair blowing in the wind. Her hands clutched the handle of a purple umbrella. At first I thought she was a fellow reporter, until I noticed how still she was standing, like a wooden stick planted in the dirt. Her gaze was fixed far away on the foggy river, oblivious to all the soldiers, journalists and government officials shuffling around her. My heart sank as I realised why she must be there.
Soon after, everyone was herded behind a high wire fence three metres back from the river bank. She stood so close to the fence her face was pressed against it. Her eyes were red, and she held a ball of wet paper tissue in one hand. She looked very young. 22? Maybe 19?
It was raining sideways and everything was wet. I was standing next to her while trying to send a text, and dropped my phone in the mud. By the time I fished it out, it was dripping in sludge. I turned to a group of women behind us, and asked for tissue to wipe it off. One of them handed me some, her eyes also red. I thanked her and asked the group which of their loved ones were on the boat. They turned their faces from me in silence and walked away. But she prised her eyes away from the river and looked at me. I asked her the same question.
"Both of my parents," she said quietly. Her voice sounded even younger than she looked, like a child's.
Together we looked in the direction of the submerged boat hull, although it was too far out to see. I don't know how many silent minutes passed. Her head was bent, pressing into the fence. Occasionally she wiped a tear away with the sodden tissue ball, then held her chin up, absent mindedly fixed her hair, and rested her head down again.
Dozens of soldiers were rushing all around us. Without moving, she whispered, "Do you know what they're doing over there?"
I told her what I knew of the rescue plan. She said, "I heard they're going to cut an opening in the boat today."
"Yes, to search for survivors inside."
"No," she said firmly, "I heard it's to get the dead bodies out."
Her voice trembled when she said it, and tears rushed down her cheeks. She wiped them off with the paper ball, and tucked a few loose strands of hair behind her ears.
I asked her where she came from. "Jiangsu," she said vaguely. While trying not to show too much grief that she might overwhelm herself or lose control, she quietly told me how she and her friends had heard about the deadly accident on TV – how they paid their own way to get here, a place they had never even heard of before, how they hitchhiked from check point to check point, pleading, begging, yelling, crying and hiding in media or supply vans to get through soldiers ordered to stop their advance. Once they got here supplies were locked down by the army and they were left to fend for themselves, she said angrily, all the while not knowing whether their loved ones had been carried 200 kilometers downstream by the current or were trapped in a tin can at the bottom of the river.
I handed her water and snacks but she shook her head, too exhausted to refuse. She said softly that she couldn't keep anything down. We stood together for another long silence, gazing out at the river. The media was being herded away from the dock. I asked for her number and she gave it to me. I said I would send her a message. She smiled and thanked me.
Before I was coralled out of the enclosure, I looked back at her one last time. Her face was pressed up against the wire fence again, her whole body leaning in. The rain had died down to drizzle. She put the umbrella away. Both of her hands clutched onto the fence now, the tissue ball still in one hand. She stood straight and still, gazing at the fog on the river.
•
Mia Li is a researcher for the New York Times by day and a standup comic by night