Wish Lanterns
A new book by Alec Ash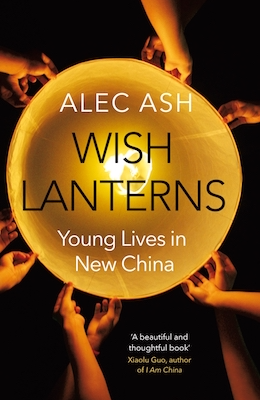 While we've been publishing stories from China by you, dear readers of our little colony, your humble editors have also been beavering away at their own writing. Now that fruit is ripe for the tasting. So gather around. That's right, it's time for some shameless self promotion and abuse of editorial privilege as I plug my own book.
On top of my own journalism, and anything else that keeps me in my noodles, for the last four years I've been germinating, researching and writing my first book, Wish Lanterns: Young Lives in New China. It's literary nonfiction, a deep dive into the lives of six young Chinese of my own generation, and it was published yesterday by Picador.
The book is very narrative in conception, and jumps between the six people I write about, telling their stories from childhood to mid to late twenties. There's Lucifer, an aspiring superstar (who was in Rustic for those who know it); Snail, a country migrant from Anhui who gets addicted to World of Warcraft; Fred, daughter of a Party official from Hainan; and even a love story, though I won't spoil the surprise by revealing which two characters meet each other halfway through the book.
So far there have been reviews in FT and Prospect, and BBC Radio 4 has selected it as a 'Book of the Week', to be serialised in August. The publisher has put out an excerpt, the first chapter, which you can read here. If any of this piques your curiosity, please do support and buy a copy. It's a fast read, draws on years of close reporting, and I hope Anthill readers find it gripping as well as insightful.
A quick word on distribution: the book is published in the UK (my homeland) which means it's in bookshops there, as well as Asia including Australia and Hong Kong, and on Amazon.co.uk. US publication is in half a year's time – a common lag in publishing – which means US readers will have to wait until then to see the American edition in bookstores and buy the ebook on Amazon.com. If you don't want to wait, Amazon sellers are shipping the UK edition, and you can switch your Kindle store to UK. For those of you in China, it will take about three weeks to get copies up to the Beijing Bookworm (and Garden Books in Shanghai) where I'll throw a launch party, probably on June 30th.
OK, enough from me! It feels like a long time since I first started writing about young China on my old blog (here's my first very post from August 2008; I know I'm going to regret sharing that). Eight years on, it feels great to see that germ come into bud. I might share more later, and am collecting review links here, but for the time being here's the mini 'teaser' opening of the book, digging into the past ...
It had been a decade since Dahai buried his diary.

The leather journal was waiting in the dry earth beneath a pine tree, at the top of the mountain behind his childhood home. He was eighteen when he put it there, in a dark teak box used for storing tea leaves, along with a pack of cigarettes and some old photos.

Born in 1985, he was a child of new China. His was the first generation with no memory of Tiananmen. A generation of only children born to a country growing as fast as they were – natives of its hurtling present, inheritors of its uncertain future. In the diary he wrote about worries, wishes, fragile wishes . . . but mostly about a girl.

The May heat frazzled as he reached the summit. But which was the right tree? He unfolded an army-green spade from his backpack and plunged it into the ground, feeling for a hollow wooden thunk. Construction workers rebuilding a pagoda nearby took pictures on their phones, amused as he pockmarked the landscape with holes.

Dahai ignored them. He was almost thirty now, married, and dug for his early years.
Happy reading, and a big thanks to everyone for spreading the word. – Alec