Dude, where are my socks?
The anatomy of a door-to-door Taobao delivery – by Alec Ash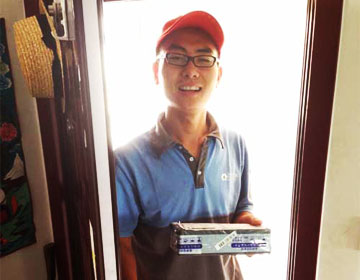 If you live in China and are anything like me, you order a lot from Taobao. The last dozen items I purchased from the online shopping site are: foam ear plugs, a wooden moxibustion set, USB speakers shaped like a panda head, a hemp cushion with a union jack design (vote no, Scots!), a laptop stand, a wireless keyboard and mouse, a piano stand clip-on light, a fridge magnet that you can snap open bottle caps against, a bottle of Bruichladdich whisky, a portable iPhone battery charger, and a tai chi sword. I have just revealed too much about myself.
If you have lived outside of China and are anything like me, you are in awe of Taobao. First, there's the old saw that Taobao has everything. Pining for Marmite from mother England? Taobao got it. Think sending live scorpions in the post is a bad idea? Think again. Want a pony instead? Happy birthday. Where else could you buy snail mucus cosmetics and Tom Cruise's head in the same place? You can even rent fake boyfriends and girlfriends, reportedly.
Next, there's the sheer efficiency of it. Goods arrive anything from the next day to a few days later, depending on where they're coming from. Payment is simple, most things are surprisingly cheap, and the evaluation system keeps buyers trustworthy. And last but not least, it's a joy to use. You can chat with buyers online, customise orders, check comments, track delivery and acknowledge receipt online for small cash rewards. It's all very moreish, and I wouldn't be surprised if there were cases of Taobao addiction.
A few months ago I interviewed a young couple who ran a Taobao store from their flat in Yanjiao, a far-out district of Beijing. Their store is called Box Tie-Dye and they sell tie-dye clothes, which means tshirts, vests, tank tops and the like, hand-dyed in trippy colours. They dye the clothes themselves, in their sink. It's all very hippie, and so not super representative of the Taobao ecosystem (electronics from Shenzhen is more the norm), but interesting nonetheless.
Instead of writing it up straight, I figured I would place an order with them – for a single pair of socks – and then journal what happens to that order from the click of my mouse to the moment it arrives at my door. I kept in step-by-step touch with the sellers on WeChat, asked them to take pictures, and I also got the delivery guy's story when he came. This happened earlier in the summer, but better late than never, here it is – the anatomy of a Taobao delivery.
***
Friday 1:28pm, 19 Xiguan hutong. It's an unforgiving Friday afternoon in mid summer. The sun is taking the skin off hutong residents who linger too long outside, and picking off small birds for sport. I have selected a fetching pair of tie-dye ankle socks, in psychedelic red, yellow and green. I will walk around home in them and nothing else and contemplate growing dreadlocks. They cost 8.80RMB (a little under £1), and delivery is 7RMB. I'm hosting a rooftop barbeque the next afternoon, and wonder if they'll arrive before then. I click process payment.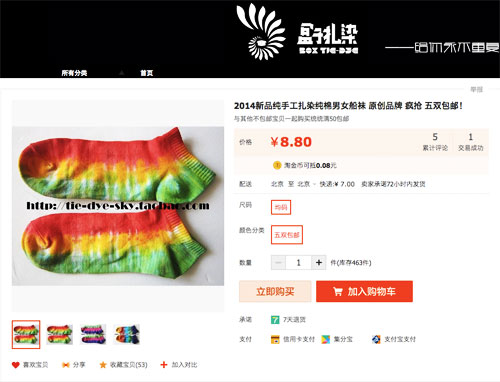 Friday 1:28pm, Unit 3, Fucheng, Yanshunlu. It's a lazy Friday afternoon in Yanjiao, the suburb of Beijing so far our it's in Hebei. Over the Chaobai river is the city itself, too expensive to live in, almost two hours away on a bus packed with beipiao, Beijing's drifting population of young migrants and workers. On Sanhun's laptop screen, almost constantly open to Taobao, an alert pops up that a customer has placed an order for a pair of socks.
Sanhun is 23, from Chongqing in Sichuan. She has long hair died bright orange, and a punk attitude. Her boyfriend, Mengzi, is five years older, from southern Hebei, with a cheese wire strip of beard under his neck. They met on a Douban discussion group for rock and roll music, and started courting after someone else insulted their music taste. After a few months of flirting on QQ, Sanhun came to meet Mengzi, and they lived together in Inner Mongolia for two years, where he was selling phone cards for a living.
In 2012 they moved to Yanjiao and opened their Taobao store. It suited their lifestyle more – they could take a holiday whenever they wanted, posting an away notice online. "Most people blindly chase after money," Mengzi says. "We also do things for money, but more important to us is freedom." Yanjiao was one of the few places with rent low enough to afford that freedom, although it frustrated Mengzi that he was technically back in Hebei.
It wasn't hard setting up operations, and the margins were good. They would buy a tshirt for twenty yuan, dye it with colour, which was cheap, and sell it for forty five. On a good day they might shift ten or twenty, and in a good month they would earn ten thousand yuan, a decent city salary. More and more wenyiqingnian or "artistic youth" (read: hipsters) were discovering tie dye, and they were expanding to dye bed sheets, Converse shoes, and cut-off jeans.
Their main headache was negative comments. One of those could decrease their ranking and put off customers. They had to deal with it like a ticking bomb, messaging the user to mollify them, or even offer a discount or refund to persuade them to delete the comment. But they were rare, and Box Tie Dye was climbing up the store rankings, with a respectable two diamonds in a system in which five hearts makes a diamond, five diamonds a blue crown, and five blue crowns a yellow crown, the ultimate sign of a trustworthy seller.
But Sanhun and Mengzi aren't too fussed about getting to that level. "I'm not an ambitious person," Mengzi says. "If I can have enough money to lead an easy life, I'm happy." For them, that means a good time in Strawberry Music Festival, the occasional biking holiday, and space alone to enjoy each other and their lazily bohemian lifestyle away from the high-pressure wage slave society they so dislike.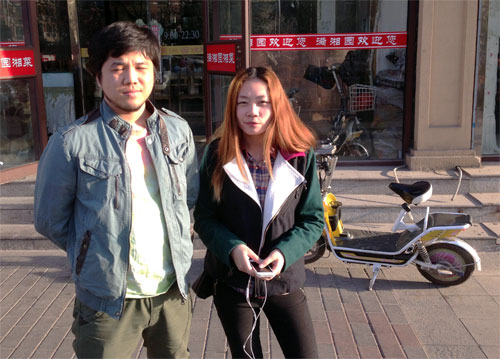 Friday 1:31pm, Yanjiao. Sanhun glances at her screen and sees the order. (And recognises the buyer's name, and messages me to ask why I'm only ordering one pair of socks, weirdo.) She's busy right now, because one of her three cats has just given birth to a litter of five. She's worried the mother – called Zaiji, "little chicken" – might accidentally crush one of them. Mengzi is out fishing in the Chaobai river near their flat, one of his favourite hobbies, although he hardly ever catches anything. They'll dye the socks later.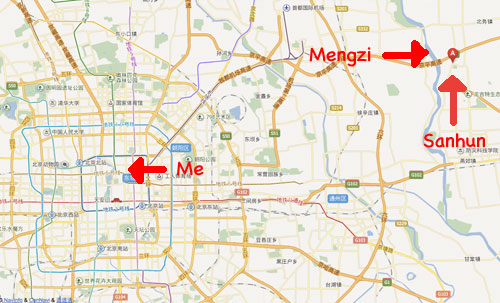 Friday 3:30pm, Yanjiao. Mengzi is back from fishing, empty handed. Together, they tie up two bundles of socks with elastic – easier to do it in bulk – and place them on the metal grill over their sink, then squirt colour of them, green, yellow and red like a Caribbean flag. They do some tshirts too from another order, then leave it all out to dry.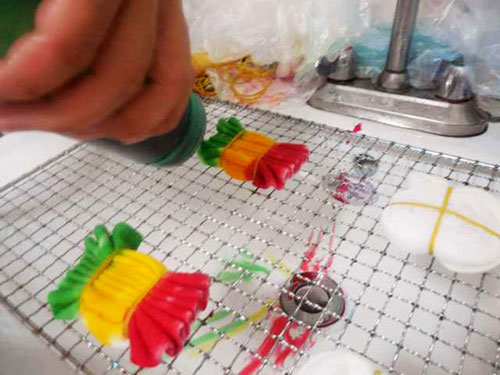 Friday 7:00pm, Yanjiao. Taobao doesn't just do home delivery for buyers, it does home pick up for sellers, through the delivery company Kuaidi. At 7pm their guy comes to take a armful of packages away, including a (unnecessarily large) rectangular cardboard box with my address on the delivery slip. The guy drops the package at his local office, and presumably knocks off for the day to go for dinner and beer, or look at internet porn, or however he spends his Friday night.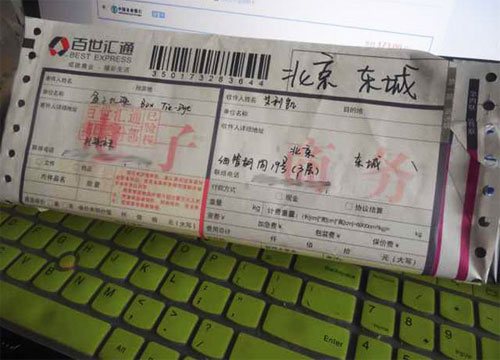 Saturday 8.30am, Sihui delivery centre. At some point between last night and this morning, my package made it from Yanjiao to Kuaidi's processing centre in Sihui, slightly nearer central Beijing off the southeast fourth ring road. From there it found it's way into the hands of Guo Yaoguang, who's beat is the block southwest of Beixingqiao subway station where I live.
Guo Yaoguang is 23 years old, with a schoolboy build, specs as thick as his eyebrows and a sweet smile. He's from Hebei too, like a lot of the people on the margins of Beijing life. He works six and a half days a week, getting up at 6.30am to pick parcels up from the processing centres, then deliver them with his company three wheel scooter. For this he gets 3000 yuan a month, which is enough to cover his living expenses and still put a little aside each payday.
Two years ago, Yaoguang quit university when he realised he wouldn't have any better job prospects after graduating. To get a really good job, he realised, you needed money and gaunxi, connections, not an education. He worked a year and a half in factories in Beijing, Tianjin and Shanghai, making iPhones, Macbook Airs and Sony phone. He worked half a year in door to door sales. He started at Kuaidi in March this year.
Becuase his beat is only one block (albeit a massive Chinese block), he knows every nook and cranny from Jiaodaokou to Zhangzhizhonglu. There are the high rises along Jiaodaokoudongdajie, and the myriad of dazayuan or "miscellaneous courtyard" hutong entrances, where the right door is hard to find and he often needs to ring the number on the slip, or just shout the name from the entrance until someone opens a window and ushers him over.
Sometimes, Yaoguang pokes his head inside the flats he delivers parcels to, curious about how other people live, who can afford rents inside the second ring road. He's most curious about the foreigners, who he has noticed almost all live on the sixth floor of buildings – no doubt, he speculates, because the lower floors were all been rented or bought by Chinese before. There's even a foreigner in number 10 Baimicang hutong who has a Chinese wife, which was very interesting indeed (human flesh search anyone?).
All in all, he likes this job. He gets to meet lots of different people, and it's easy enough – there's only a problem if a package doesn't make it to a customer, in which case he's in trouble. But it's uncertain if there are any opportunities for promotion. Although he's only 23, he quotes the old Confucian epithet to me, "At thirty you should be established." He's a far way off still – no flat, no car, no nest egg, no girlfriend. "If you have don't money, no woman will be with you," he says, a familiar refrain. "This is the new Chinese custom."
But that future's still to be written. He's getting there, one parcel at a time.
Saturday 10:15am, 19 Xiguan hutong. Yaoguang is knocking on my door, his three wheeler parked in the hutong outside, but there's no reply from inside. He rings the number on the box, and I pick up. I'm in April Gourmet supermarket, buying supplies for the barbeque like the decadent tie-dye sock ordering expat I am. I ask him to come back after 1pm.
Saturday 3.11pm, 19 Xiguan hutong. The delivery man cometh, while I'm preparing burger patty mix. After I sign his slip to acknowledge receipt, Yaoguang and I sit down and I get his story. We exchange mobile numbers and he sweetly says I'm his first foreign friend. Afterwards I will see him around the area from time to time, tootling along in his three wheeler, and he always stops to say hi, although I've never had another package delivered by him. He's not the only Taobao kid on the block, but he's my favourite.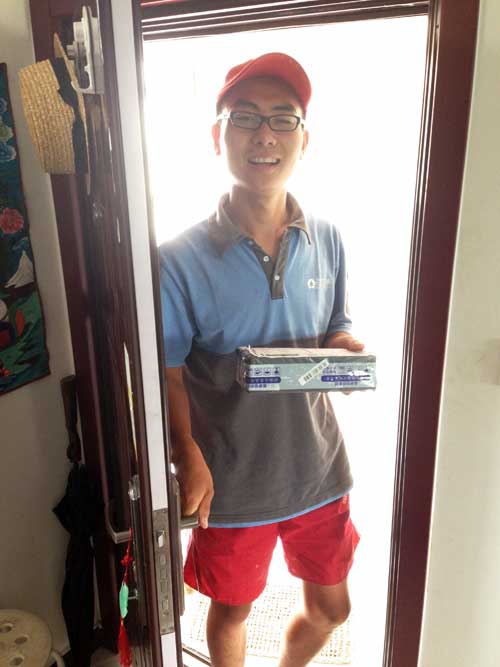 Enough bonding – more pressing concerns are at hand. My socks! I push Yaoguang out of the door, and sit down to open my parcel with my Taobao package opening knife. Inside the cardboard box is a grey plastic envelope – the suspense, it's killing me – and inside that is a clear plastic wrapping with a single pair of tie-dye ankle socks.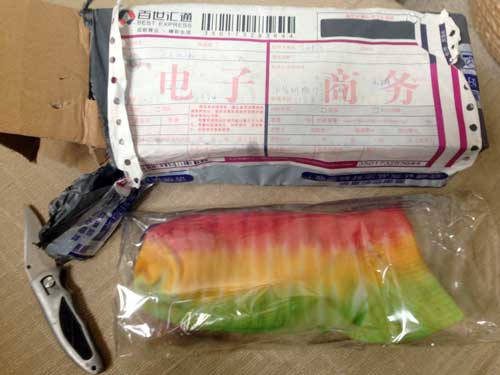 I rip them open and put them on. A snug fit.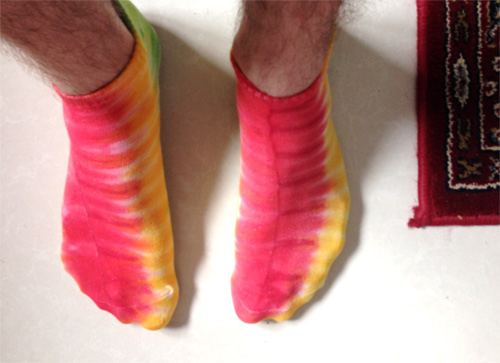 I go back to the burger patties. My feet feel a little more hippie already. I bask in the warm consumer satisfaction of wearing my internet order the next day after placing it. And now that I know about the young couple who sold me these socks, with their five new kittens out in Yanjiao, and about the 23 year old who delivered them to my hand, making £300 a month, as I go up onto the roof to fire up the grill I feel a little bit of privilege guilt too. Like the sausages my friends and I are about to eat with Pimms and lemonade, sometimes it's best to enjoy a Taobao delivery without knowing how it's made.
•
Alec Ash is a writer and journalist in Beijing and editor of the Anthill. Follow him @alecash
For the less anectodal picture of China's national delivery infrastructure, this Economist article is good
I also wrote about Taobao entrepreneur "Ben" on my old blog, Six, for example here