Street Stories: Postures of Youth
A PHOTOGRAPHY SERIES FROM SHANGHAI STREET STORIES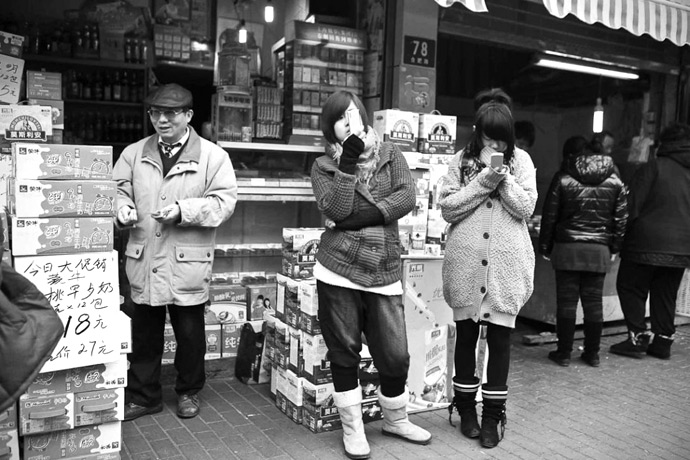 I had unintentionally trailed the two young girls for much of the block.
One walked with a swagger, the other with hesitation. Both had their heads buried in their mobiles, their fingers texting furiously. Without looking up, they weaved in and out of the Saturday afternoon crowd along Hefei Lu.
They paused for a moment on the sidewalk to decide their next move. Swaddled in trendy winter wear, they chatted absently while playing with their phones. The dialect was incomprehensible. Though their soft tones suggested Jiangsu, their attitudes spoke of enough time spent in the city.
Sometimes we forget that it is more than commerce that defines Shanghai's pulsing vibe. Its fast pace rides on the depthless energy of countless youths that flood the city. Many of them move around with their parents who sought better lives in Shanghai, others are bundled into buses and dispatched to work for distant relatives in the city when crops failed in the countryside.
Most finish high-school with no expectations of further studies. Instead, they arrive in Shanghai with stars in their eyes which are eventually dulled by their unglamorous lives as shampoo boys/girls, shop assistants, security guards, masseurs, waiters and waitresses.
But the fervour of youth is impossible to extenguish. After twelve hours attending to demanding (and often verbally abusive) customers, they shed their uniforms and plunge into crowded streets and bright lights. On their days off, they stroll along the Bund, window-shop along Nanjing Lu, gossip about budding romances and watch hours of Korean soap dramas. In a city with an extreme income disparity, Shanghai is theirs as much as the next person.
That's the thing about a large and mean metropolis. If it doesn't care for you, it cannot judge you.
Unlike tightknit communities back home, the city barely bats an eyelash if you become a married man's mistress, are being sexually harassed by bored housewives, join an underground Christian prayer group or study for the real estate exam after failing three times in a row (all true stories).
Shanghai carries the hopes and dreams of wild-eyed youth, hoping to strike it big and live the modern life that their parents could never have imagined. Maintaining one's dignity can be challenging in such circumstances.
Once, I watched a property agent, no more than 25 years old, stand in an ill-fitting shiny suit outside a luxury estate distributing property listings. Only the help staff would walk out of the door, all the residents entered and exited in their flashy cars. The young agent stuffed the flyers eagerly into open car windows, much to the annoyance of the drivers. One haughty woman in large sunglasses flung it right back out on the ground before speeding off in her BMW.
The young man picked up the flyer and smoothed it out for reuse. His hopes were not quite dashed, but a little shaken.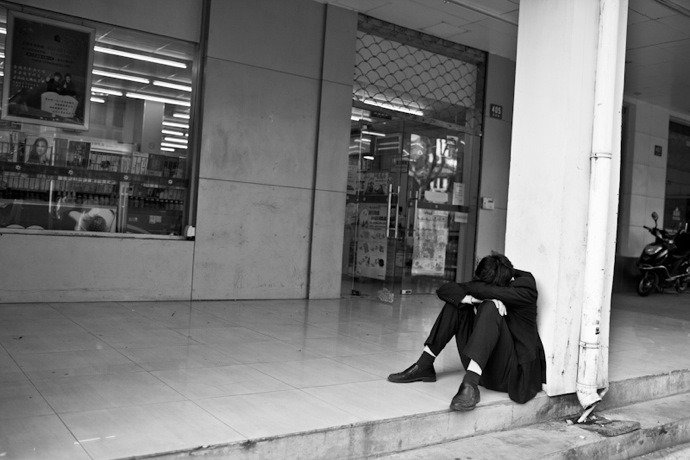 •
Sue Anne Tay is the photographer and author behind Shanghai Street Stories, which documents the heritage, architecture and community of Shanghai's disappearing old neighbourhoods. The Guardian called Shanghai Street Stories one of "the best city blogs around the world"