Post(ing) Mao
The revolution lives on – by Vincent McLeese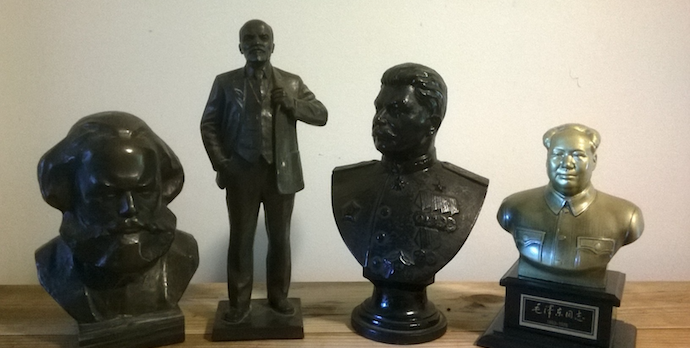 I found the post office hidden in an alleyway a couple of hours before my flight home. A single electric light bulb threw long shadows across the room. A scent of cardboard and black tea filled my nostrils. In the darkest corner, an elderly woman with sleepy eyes cleared the counter of the pile of torn gloves she was mending. It must have been hours, maybe days since her last customer. I affectionately greeted her as ayi, auntie. She smiled and amicably referred to me as tongxue, classmate.
"Can I still send something back to my parents in America?" I asked. "Just a little gift."
"No problem," Auntie almost eagerly assured. "Just put what you wish to send on the scale."
I did.
"Oh." Auntie exhaled as she stared at my intended postal passenger.
Shaoshan, a humble farming village nested into a Chinese valley in south-central Hunan province, also happens to be the birthplace of Mao Zedong. Today, rice farmers watch countrymen pour into the village from the newly-minted high-speed train that directly links the rural community to Shanghai. Each visitor is hoping to catch a glimpse of the late chairman's bedroom, eat some of his favorite food, listen to his favorite music, and – for $10 – take a picture with a very convincing impersonator. It struck me as a crude and commercialized tribute for a man who our taxi driver assured was the 'Jesus of China'.
When I was there – as part of a one-month 'red tourism' trip around China, visiting historically significant locations for the People's Republic of China – an endless array of trinkets and Mao memorabilia was being peddled. The hottest items were plastic busts of the Chairman. Intended for a prime position in a Chinese household, artistic- and business-minded locals have given up their farms to earn over 1 million RMB per year selling Mao paraphernalia. One villager had converted an old barn into a warehouse sized showroom to celebrate the diversity of the Great Helmsman. A thousand Maos – white, black, gold, brown, young, old, giant, petite – filled the hall. I picked out a cheap $5 model in all-black, wondering if he would be welcomed into my father's bottom-shelf collection of Russian communist leader busts.
"Just a moment" Auntie continued after a very long pause, while she reached for the phone.
It was clear that an American wishing to ship out a bust of the great leader himself was not an everyday occurrence in this particular branch of China Post.
Her once-cheerful face was as stone cold as the chairman himself as she conveyed a few keywords – "foreigner … Mao … bust … America" – before putting down the receiver.
"This is Chairman Mao, the founder of China," she tried to educate me. I'm not sure if I impressed her when I said I already knew.
"I don't think we can send such symbols abroad because of Chinese law," she continued. "I asked my boss what to do, she will call me back."
I hadn't anticipated that when I selected one of the thousands of cheap plastic busts in Shaoshan that I was also purchasing a state relic protected by laws and regulations. It felt surreal to run into such a mundane obstacle. I was also intrigued by the events unfolding before my eyes, as if a remnant of the cult of Mao was still alive.
We waited for the verdict in silence. I thought I caught a smirk escape Mao's marbleized countenance. The revolution continues.
"What if I wanted to send back a portrait of Uncle Xi?" I asked, unable to restrain my curiosity. "He is also a leader of China," Auntie again educated me, this time acknowledging the fact with a meditative "ah". She fiddled with her gloves, searching for a distraction.
Perhaps she was just being a good steward, concerned about the fragility of the immortalized leader? Had she herself made the pilgrimage, and crowded for hours to pass through the Relic Museum where dusty glass cabinets display over 1000 of Mao's childhood belongings? Did she visit the Music Hall in the Memorial Library which has a twice-daily dance spectacle of his favorite classical Chinese songs? Had she eaten at one of the restaurants sprawling around the village, decorated with Mao statues and serving the chairman's favorite red-braised pork with Mao Jia (Mao Family) trademark hot sauce? Perhaps she hadn't had the opportunity to go yet, prohibited by the rising cost of hotels, entrance fees and train tickets.
The phone rang. The official leader of the Chinese relic export ministry in Beijing, perhaps. I heard questions echoing from the receiver. "Plastic … about 3-4 pounds … no box or wrapping," she interjected before the conversation abruptly ended.
"You may send it," Auntie said. "But not like this. It needs to be wrapped in clothing to ensure it won't break. Perhaps you can come back tomorrow with some clothing." Her weary voice suggested she disagreed with her supervisor's decision.
I explained my plane was this evening, and pulled my sweater off my back in offering to the leader. A smile escaped Auntie's face. It was an icy winter day and this revolutionary commitment seemed to please her. She reached for a rusty key and disappeared behind an aluminum door, reappearing with two arms full of bubble paper, styrofoam popcorn and three rolls of masking tape. We teamed up to build a comfortable cocoon around the leader, triple-layering the outer shell of masking tape.
"Airmail would be more suitable," she bluntly insisted, as I filled out the paperwork. Despite being nearly $50 more expensive than by sea, I sensed I did not have a choice in the matter. Only after a final inspection did she gently position the box on the export pile. A warm smile crossed her face as I retreated into the cold fog. Behind me I heard the heavy click of a lock. Enough excitement for one day.
When I left the post office I could not help but feel victorious. The following week my father received the former chairman, impressed by the sheer quantity of wrapping. Mao might be pleased to know that, despite now calling Washington DC home, he is in good company.
•
Vincent McLeese studied Mandarin from 2013 to 2014 at Peking University. American by origin, he is currently studying Finance & Economics at HEC Paris