Life After Dark
Exploits at a Guiyang gay bar – by Sasha Draggeim
"If I were a boy …"
I strained to hear the echo of my voice in the dark, shoebox-shaped bar, as crowds of young men swayed to and fro in the audience.
"Even just for a day …"
I was singing "If I Were a Boy" by Beyoncé Knowles in DD, or Daily Dish, one of the two gay bars in Guiyang, Guizhou province – a city generally described by non-Guiyang Chinese people as luohou, "backwards." I had chanced upon this bar a few months earlier with a friend, and before long it became my main source of social interaction.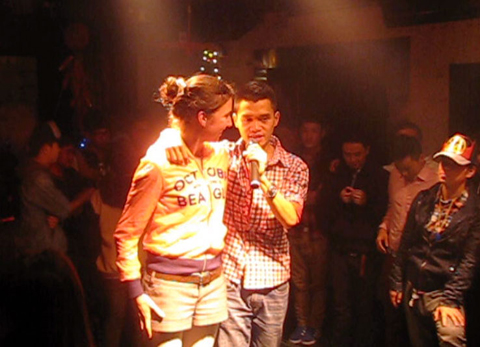 Here, in a tiny bar on the backside of a building in the central city square, men of all shapes and sizes had gathered to celebrate the fourth anniversary of the group leader, Fantasy, and his partner Little Ni. I was one of the performers scheduled for the event.
It was also a sad evening. In the glow of stage lights above the square glass stage, I could see Fantasy's resigned expression. In a few months, he was going to be married off by his unknowing parents to a woman from the countryside. When I asked him why he couldn't just tell his parents, he sighed, "They are too old, I can't tell them now."
What would he do with Little Ni, my friend and I asked. Fantasy lowered his voice. "I don't know, maybe I could see him once every two weeks. You know, I've been married once, but it didn't last very long. My wife filed for divorce, she said I didn't love her." But his parents still didn't know why.
Every evening, Fantasty dutifully had dinner with them, said good-night, and then crept out of their shared home to make his grand entrance at DD at around 11pm. Among those waiting for Fantasy would be Brian, the bar owner, a man from Guiyang who spoke smooth English and had traveled to the Netherlands. With a confident half-smile, he often spoke of gay bars in Shanghai and Beijing, big cities where you could come out as gay even outside of the bar.
Maybe that's why Brian was the most audacious when it came to family. "I will move to the Netherlands, get citizenship through marrying a man – it's legal there! – adopt a child in Europe, and tell my parents it's mine."
Like Brian, the rest of the gang – Little Handsome, Cheetah, Little Jian – were known to us only by their pseudonyms. During the day, they went to work, ate out with their colleagues, spoke softly, and dressed neatly. But at night, they transformed.
Little Hao, his delicate features masterfully highlighted with makeup and an affected tragic expression, smiled daintily while sipping a beer. On stage, Cheetah stunned everyone with his flexibility in Michael Jackson-esque group dances. Little Handsome transformed into a catty Peking opera diva and performed the Dan part – a female Peking opera role once sung by men, dressed to kill in a billowing robe and full stage makeup.
DD was a place to drink, to smoke, to forget about weddings and parental pressure – just to be.
Guests crouched around low tables, drinking beer by the crate. Sad events of the past were forgotten. Such as how Little Jian had attempted to take his life after a breakup with his PLA boyfriend, uncontrollably posting sentimentalities and photos of himself with an IV in his arm on Weibo.
But they were back together now, and even pale Little Hao was looking lively tonight. Conversation flowed, above the booming music, about what subversive act was being planned by the owner of the rival gay bar. I had heard that it was bigger and newer than DD, but had never been there out of loyalty to my friends.
"Cause I know how it hurts, When you lose the one you wanted, Cause he's taken you for granted, And everything you had got destroyed."
Though Fantasy had mixed feelings about the evening, most of the others didn't know about his upcoming wedding arrangements, and the atmosphere was almost maniacally jovial. After all, "there is a dish [available man] every day" (每天都有菜) – the expression which gave rise to the bar's name.
My song was drawing to a close.
"If I were a boy, I think I could understand, How it feels to love a girl, I swear I'd be a better man."
It was Fantasy's favourite song, and I looked back at him. A tight crowd enclosed the stage at the front, but Fantasy stood in the back by the DJ system, working the sound, padded headphones drooped over his neck. Smoke clouded the room, the lone disco ball swirled, and I could see dancing particles of light reflecting in his wistful smile.
•
Sasha Draggeim is a PhD student in Chinese pedagogy at The Ohio State University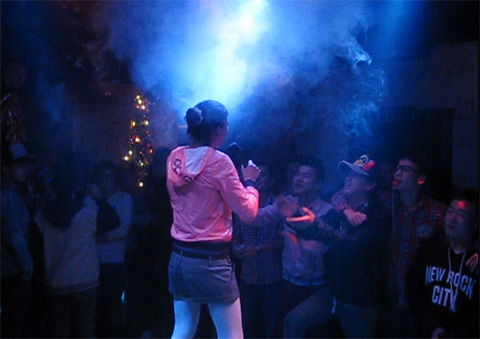 Update from the author 2014.1.20: "I have found out that apparently Fantasy's bride-to-be is a lesbian, which is a relief because at least it means she is aware of the situation."