Chinese Tuesdays: National Day Bargains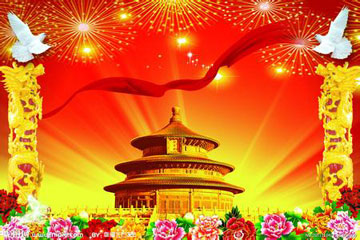 Happy National Day (国庆日 guóqìngrì) all, which is tomorrow, starting the "golden week" (黄金周 huángjīn zhōu) holidays. For our friends in Hong Kong, here's a translation of a topical joke I stumbled across online:
How to Get Great Value for 7 Days of National Day Festival!
1. Use a rock to smash up one police car, and win seven days free lodging in a guarded dormitory, everything included, amazing value
2. Smash two cars and it comes with a free pair of exquisite metal bracelets, a fashionable matching set of clothes, and free police transport
3. Smash even more and win bigger prizes! First ten winners get a free hairshave, first hundred winners can frolic with police dogs, get a guest massage with batons, and electroshock beauty therapy
4. Act now, have an extraordinary National Day Festival!
国庆节怎么过?超值 7 天游!
用石头砸警车一辆,赢得看守所七天食宿全包超值游
砸两辆还送精美手链一条,时尚囚衣套装,警车接送等
砸的越多惊喜越多,前十名还可享受免费剃头,
前一百名还可与警犬嬉戏,来宾均赠棍棒按摩,电击去死皮美容保健套装。
赶快行动吧,过一个非常国庆!