The China Charleston
How a silly dance I learnt in high school took on a life of its own in rural Yunnan – by Jessica Chong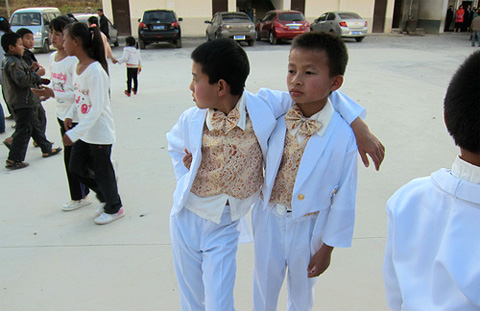 One of the best things about my all-girls school was our PE class. We got to do all sorts of girlie things that wouldn't fly at a co-ed school, with abandon. Examples: A rhythmic gymnastic ribbon routine to Janet Jackson's "Together Again". Using a sock puppet to warn my classmates of the perils of Toxic Shock Syndrome. But my favourite was learning the Charleston, when my usually stern PE teacher would put on a garbled recording of "You're the Cream in my Coffee" on the loudspeakers, and prance across the floor.
Maybe it was the knee swapping move that my dad used to do at birthday parties. Or the Charlie Chaplin invisible umbrella walk that makes you look like a penguin. Or the showy way you thrust out your arms. It was impossible not to smile during the dance's outsized, caricatured movements. The Flapper Dance induced a kind of euphoria in me, and after each gym class my friends and I would fall to the ground laughing.
•
Last year, I made several trips to a village in rural Yunnan to see my friend Chris, who was teaching in an elementary school. I would fly from Hong Kong to Kunming, sit on an eight-hour bus ride to Lincang, south of Dali, and then take a hair-raising, knuckle-whitening two-hour mianbao che [minivan] ride on unpaved roads out to Ximu village.
Most people in Ximu make their living in the fields, farming tobacco or rapeseed. In the rainy season, the fields are lush with huge tobacco leaves, and the dirt roads are a vibrant terracotta. In the dry season, after the harvest, they are jaundiced.
Chris was working as a teacher at Ximu Elementary, which sits on top of a hill. Its loudspeakers face outward into the village. If you live within a one-kilometer radius, you'll know when their classes begin and end, when it's time to do eye exercises, and when it's lunchtime – which is announced by the blaring of "My Heart Will Go On" at 10:40 am. Students begin school with morning exercises at 6:50 am, and go home after evening self study, at 8pm in the winter or 8:30 in the spring and summer. If they live more than a half hour's walk away from school, they spend weeknights in the dorms, where they sleep two or three to a bunk. The window ledges of the dorms are lined with cups and toothbrushes, with a small rack holding towels in front, red from the silt that covers everything in the village.
Chris taught English to a handful of grades, as well as music and PE. I had no idea how to command the attention of elementary school kids, but Chris – bless him – invited me to help him teach a few low-stakes PE classes to some second graders. We set up relays, taught the kids how to play the game Dead Fish, and when we had run out of ideas we taught them the Flapper Dance, based on my memory of the moves from Grade 9 PE.
The kids fussed and frowned while they tried to coordinate their limbs. They were too focused on getting it right to enjoy it. "The most important thing about this dance," I told them desperately, "is that you have to smile!" But I left Ximu before I could see the dance in any sort of polished form.
•
When I returned a few months later, the Flapper Dance had acquired a life of its own. Chris had choreographed some partner dancing, which I'm sure the kids hated him for (when you're in elementary school, members of the opposite sex always have cooties). But they persevered, and performed at Ximu Elementary's Sports Day in the autumn.
That day, there was a very special guest in attendance – the county secretary. He thought the dance was absolutely the bee's knees, and specially requested that the teachers from Ximu Elementary perform it at the cultural showcase in the county seat in January.
As there weren't enough male teachers, some willing fifth and sixth graders were recruited to dance in their stead. The selection criteria were cleanliness, cuteness and good behaviour. The next order of business was ordering costumes online from Taobao. For the ladies, sequined mini Charlie Chaplin costumes, complete with tiny hats and gloves. For the boys, snazzy white suits with glittering waistcoats. For several weeks, by the principal's decree, the dance crew met almost daily to practice the dance, with Chris acting as their coach, diligently counting YI, ER, SAN, SI, WU, LIU, QI, BA over "You're the Cream in my Coffee" and trying to teach them how to clap on the upbeat.
•
I came back to Ximu in time for the county cultural showcase in January. On the day, the principal ordained that classes were to end early – such was the importance of this event. We were chauffeured to the parking lot of the county seat's elementary school, with plenty of time for the teachers to apply makeup to themselves and the boys, who were completely fine with having silver eyeshadow across their eyelids. I helped adjust their bowties.
An hour and a half after the event was supposed to have begun, the county secretary showed up, surrounded by other bigwigs who were dressed in business casual or army surplus. They sat in a VIP section made of rows of children's desks, with bottles of water and fruit bowls (which they forsook for cigarettes). The VIP section was cordoned off to the general public, although Chris and the other American teacher at his school, Codie, were invited in. The rest of us – including Chris's principal – stood at the periphery, shivering, fruitless.
There were two main types of performance: begrudging middle schoolers dressed in matching t-shirts dancing robotically to club music; or all-female troupes wearing colorful ethnic garb and dancing to folk music. One very patriotic group, whose sun-beaten faces made them look about 70 years old, wore costumes you might have seen at a Maoist revolutionary opera performance – camo with three-foot long fake braids tied with red ribbons. Towards the end of the night, young women in very short shorts and sequinned tops danced to Gangnam Style, to the delight of the bigwigs.
Somewhere in the middle of the program was the delegation from Ximu Elementary, doing the Flapper Dance to "You're the Cream in my Coffee". The rehearsals had paid off – everyone danced great, although I still think they could have smiled a little harder.
In the VIP section, cigarettes were smoked, votes were tallied, and it was decided that our Ximu delegation had won first place. The cash prize would help to cover the Taobao outfits. The bigwigs went home. The desks were returned to their classrooms, sticky with banana peels, blanketed in cigarette ash. The rest of us celebrated by dancing to VCDs of Yunnan minority folk music around a fire in the middle of the lot, led by an elderly folk dancer.
I wondered why Ximu Elementary had won. Was it the skimpy Charlie Chaplin outfits and white tuxedos with glittering waistcoats? The clean boys? The unabashed Americana of it all? Or because it was the only performance with a white person in it? Why didn't an authentic Yunnan performance win? Who can judge what authentic Yunnan is now, anyway?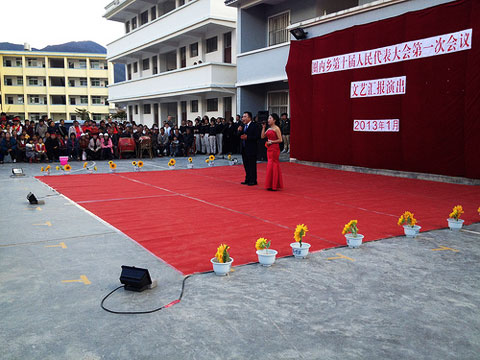 That day I first introduced the Flapper Dance to Ximu Elementary's second grade PE class, I was invited to join another teacher's class on a mushroom picking excursion into the pine forest, about ten minutes from the school. It sounded romantic, like something from the Enid Blyton books I had loved as a child, so I went along. For half an hour, I watched as the children overturned rocks and parted grass to find mushrooms, throwing away the poisonous ones, even though they all looked identical to me – flesh-colored nubs shed by an alien. When the children regrouped, they emptied out their pockets, pencil cases and backpacks, and all the mushrooms were collected in the teacher's bag, to be stirfried for the faculty lunch the next day.
It was then that a second grader tugged on my sleeve, and began showing me the knee swapping move I had taught her earlier that day. Before long, ten kids were doing the Flapper Dance under the shade of the pines. But this time, instead of fussing about getting the moves right, they were laughing and falling over rocks and pine branches. I recognised it – it was the same euphoria I felt in my gym class, long ago.
•
Jessica Chong is a twin. She bit her lip off when she was 13.