Children of Asia
A photo essay from young Asia's little visited corners
Matuail landfill, Dhaka, Bangladesh, 2010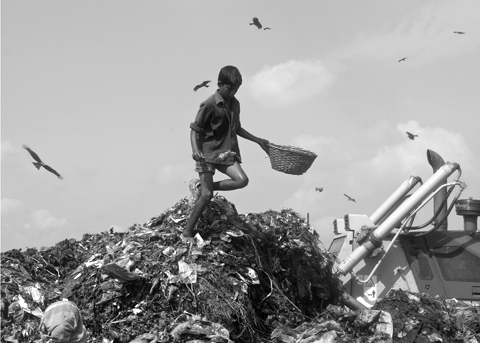 This Bangladeshi boy works as a waste picker at the largest waste site in Bangladesh's teeming capital of Dhaka, home to over 20 million people. Every day, 4,000 tonnes of waste are deposited at Matuail Landfill – which amounts to only half of the teeming city's total garbage deposits.
In 2011, a study by Rutgers University found that 2,000 residents from the area of Jatrabari where the landfill is located are waste pickers, including 1,200 children. A study by Dhaka University also found that one out of every two waste-pickers suffers from fevers and stomach problems as well as a high prevalence of dysentery as a consequence of being exposed to hazardous materials and pathogens. The expense needed to cover medical treatment is beyond the landfill workers' reach, as the adults earn $2 per day and it's safe to assume that the children receive much less. Although this particular boy is wearing shoes, I saw many others who weren't. I found the stench and the heat overwhelming and had to leave after less than an hour.
The lifestyle this boy endures appears even worse than what Charles Dickens experienced in 1858 at a similar age (12) when he was removed from school and sent to work in a shoe-polishing factory, while his father spent a year in a debtor's jail with his mother and siblings. The pre-adolescent Dickens pasted labels on boot polish jars from 8am until 8pm six days a week, and lived without his family in the attic of a boarding house four miles away. For Dickens it was an experience that scholars believe left a lasting impression. Oliver Twist, Little Dorrit, David Copperfield, and Pip Pirrip in Great Expectations may all have been drawn from his experiences as a child labourer.
Dickens' literature helped to raise public awareness and is widely acknowledged as contributing to legal reforms in the UK such as the Factory Act of 1833, which banned child labour under the age of nine and was subsequently raised to 12 in 1864. In Asia, however, a 2011 report by the International Labour Organisation indicated that despite a modest decline, child labour is continuing. Out of the world's 215 million child labourers, 115 million are engaged in hazardous work and the largest number of child labourers (113.6 million) live in the Asia-Pacific region.
•
Mandu, Madhya Pradesh, India, 2007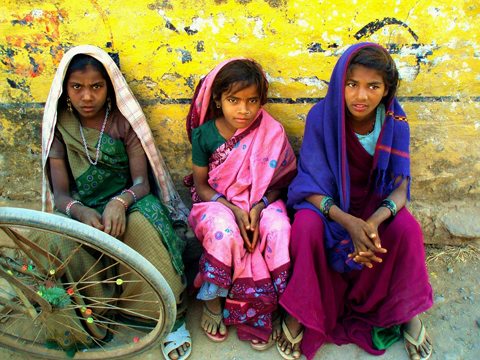 The tiny central Indian village of Mandu is no longer the happening place it was for centuries, after emerging as a fortified city in the sixth century BC. Mandu's coveted strategic position was conquered and re-conquered many times, and its Afghan architecture rivals anywhere else in India today. But since 1732 it has lapsed into a state of decline.
As a tourist, I was heading towards the village's "main attractions" when three girls stopped me in my dusty tracks. I admired their style, and their indifference towards the camera was a refreshing departure from my experiences of photographing young women in India. I had encountered two common reactions over several months: some females shyly cast down their eyes, flipped a scarf across their face or took cover amongst the back-folds of their mothers' saris. Others flashed radiant smiles and stared directly into the lens, often asking for further shots until the results on my small screen were deemed satisfactory. The chunky chain worn by the girl on the left – whose expression borders on open hostility – brought to mind an Indian version of the grunge-chic shot.
I didn't know at the time – nor will I ever – if these girls were simply feeling weary. An energetic celebration of India's Republic Day had begun shortly after sunrise that day, and seemed to involve every able-bodied member of Mandu's population of 8,500. In any event, I didn't feel it necessary to test the girls' patience by requesting additional shots. This was exactly the one I wanted.
•
Kacha Garhi refugee camp, Peshawar, Pakistan, 2006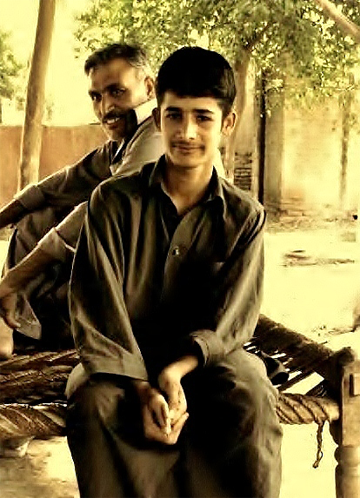 Without the help of this unassuming Afghan teenager, my day-trip to Kacha Garhi refugee camp in Pakistan's Peshawar district may have turned into something much longer. My travel companion, Mark, and I spent less than an hour wandering around the squalid surroundings inhabited by 64,000 Afghan refugees before we found ourselves being squeezed into the back of a police van by four burly escorts. Not a word was spoken during the short and bumpy ride, which I spent staring at one of the policemen. I nervously hoped we'd be taken on a supervised tour of the camp – however after being deposited at the police station, the van sped out of sight.
Mark and I spent the next three hours swatting flies and sweating in the shade on charpoys [woven beds] while a senior police officer tersely called a staggering number of officials to relay whatever trouble we were in. Two pot-bellied policemen paced back and forth with perfect effect.
The Afghan teenager sitting on the charpoy opposite quietly informed us that he was a translator, and that the head of police intended to arrest us for failing to obtain permits to visit the 27-year-old refugee camp. Mark and I were on the brink of losing our cool as we attempted to justify our presence by explaining that the permit office in Peshawar had been closed for two consecutive working days, without any indication of when it was due to reopen. I suspect the young translator inserted a few imaginatively helpful details, because the senior policeman's expression softened at the end of their exchange and he ordered a subordinate to fetch a large bottle of Sprite, which was shared quite jovially in the circumstances.
The translator told us that although he was himself an Afghan refugee, the police relied on his skills, which included fluency in no less than six languages. With a watery smile and a wave of his right hand – which has two thumbs, as you can see in this photo – he added, "There's nothing else for me to do here anyway." We nodded in sad agreement.
Shortly before Mark and I were permitted to leave the police station, he told us that he would be forcibly returned to Afghanistan by the end of the week. I sucked in my breath. For the last two hours he had patiently listened to us complain about the injustice of our detainment, while all along it was us who should have been listening to him. Although UNHCR reports that all Afghan refugees in Pakistan can either voluntarily repatriate with its assistance or move to another camp in Pakistan, the teenager said that although he desperately wanted to remain in Pakistan for security reasons, he wasn't given an option.
•
Yangon, Myanmar, 2012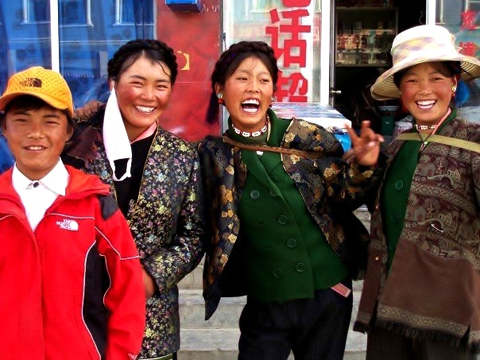 These girls came hurtling down a wet footpath in Yangon and collided with a rotting timber table on the corner, where I stood grinning. Though they somehow remained upright, the table's legs collapsed with a thump against a postal box. The girls shrieked and were laughing hysterically when they swung round to face the small group of amused onlookers, which included a tourist with a camera. This is the only shot that is at least partially focused. Even a couple of minutes afterwards, the high-spirited pair still twitched with astonishment at the mid-monsoon mishap.
The dried yellow paste on their faces is called thanaka and is made by combining the bark of a small tree with a few drops of water using a grinding stone (or you can buy it readymade at the smallest of convenience shops). In addition to doing wonderful things to the contours of cheekbones, thanaka aids a beautiful complexion by preventing oiliness. Culture Shock! Myanmar says, "Rice-transplanting or harvesting workers will wear thick thanaka on their cheeks and nose to prevent sunburn. In the cold season, a cream would be applied as a base to prevent the skin from drying out."
It is worn by men and women of all ages and in a limitless variety of shapes and patterns – my personal favourite is two large squares.
•
Chitwan, Nepal, 2007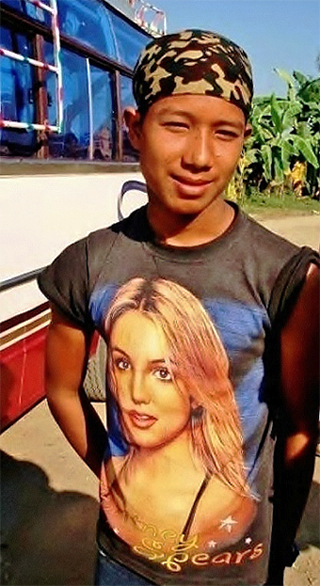 I was rushing towards a bus headed for the border of India when I saw this unusual fashion statement and skidded to a lumbering halt. I took off my lens cap as the teenager's eyes met mine in unspoken agreement. It wasn't that Britney merchandise for "tweens" and teenage girls was new to me, but this was the first time I'd seen the pop-star emblazoned across a male chest.
It made me chuckle inwardly all the more because at the time, Britney was well into a series of misguided publicity stunts, such as the infamous head-shaving incident. Perhaps the cruel tabloid editorials were unavailable or uninteresting in Nepal. But in the superficial world of celebrity, a person can be down one minute and up the next: Britney's cycle of fame and popularity continues like the Buddhist's concept of reincarnation. Although Britney t-shirts haven't caught on for the male populace yet, there may be a chance if she releases a punk-styled single. Oscar Wilde was spot on when he said, "Fashion is a form of ugliness so intolerable we have to alter it every six months."
•
Tashi Dzom, Tibet, China, 2006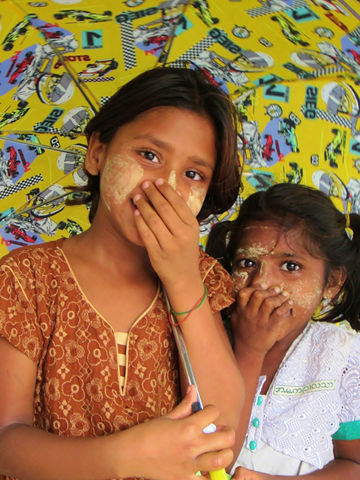 I was frantically searching for woollen gloves and a beanie from a roadside stall when the two girls pictured on the right approached me with excited grins and entreaties for group photographs. I was in a dreary town called Tashi Dzom, my ill-assorted travel group's last overnight stop before trekking eight kilometres to the Mount Everest base-camp the next day. I was dismayed by Tibet's exclusively polyester garments outside Lhasa, so my spirits lifted when the girl on the far right offered to trade her woollen scarf for my flimsy floral equivalent. My backpack contained an assortment of breezy fisherman pants and other cotton clothes that were appropriate for travelling along coastal China and the "Banana Pancake Trail" of South East Asia, but worse than useless for our guide's anticipated low of minus-20 degrees celsius.
My new Tibetan gal-pals led me into a gift shop and held up a wide assortment of knick-knacks that weren't quite weird enough to amuse me. I feigned enthusiasm and smiled at everything I was shown. Two items – I've no memory of them now – were selected by the girls. As we approached the cashier I began feeling awkward about accepting yet another act of generosity. I selfishly wondered how I would manage to fit the items into my backpack and anticipated the gifts would shatter on the next bump in the road. Why hadn't I chosen something for them? I thought guiltily. It wasn't until I noticed the cashier impatiently staring at me that I realised the gifts were for the girls. I handed over my depleted stock of Tibetan currency, intended for the polyester gloves. Once outside, I put on a forced smile while handing over the fruit of a deliberately conceived misunderstanding. I felt like the stupidest stranger in town. Then it occurred to me that it was within my rights to ask the girls to reciprocate in some way. I knew the first set of photos I'd taken were downright silly. They had insisted we hug and jump around while holding the camera above our heads. So I insisted on taking more photos of these beautiful Tibetan girls.
This shot is my favourite because it shows the mischievous twinkle in their eyes and a vivacity I found impossible to resist. In retrospect, the strange encounter was worth every Tibetan penny misspent.
•
Jessica Mudditt is a journalist who has been based in Bangladesh for three years. Read her blog here