Car No. 2
Taking in Guizhou from the tinted windows of an Audi A6
I came to Xiaohuang village in Car No. 2, an immaculately clean Audi A6 that Mr Qian kept temperature controlled at 22.5ºC. He and his wife were on holiday from Guangzhou and, in the spirit of adventure that travelling through rural Guizhou inspires, were sight-sighting as part of an eight-sedan caravan of friends. Each car was equipped with a walkie-talkie, so Car No. 1 would often radio back the scenery and road conditions up ahead. I couldn't follow the Cantonese radio chatter, but as we wended our way along the edge of the valley I knew to expect a beautiful vista – say, a Dong minority village with a few iconic drum towers huddled against the surrounding rice fields – whenever a new transmission came across the radio. Either that or a series of potholes.
Mr Qian and his wife had picked me up that morning along the steep descent outside a Miao minority tourist trap called Basha. It was the National Day holiday and I was in a foul mood because, even in the mountains of Guizhou, I couldn't seem to shake the tourist masses. He and his travel group were en route to Xiaohuang, he said, and I could ride with them there. I didn't have high hopes for Xiaohuang but I was desperate to be somewhere else, and the car was beautiful. I climbed into the backseat and apologised for my muddy boots. "Don't worry about it!" he called back and told me to help myself to the bottled water and snacks. We continued down the hill and had barely made it through the standard litany of foreigner questions, however, before it was lunch time.
We found a local restaurant, and the unwieldy group arranged itself around two tables. Mr Qian smoked Russian cigarettes that he kept in a tin with an image of St Basil's cathedral on the front. The group had already been on the road for a number of days, now on the return leg to Guangdong by way of Guilin, in Guangxi province. It struck me as a lot of ground to cover in a one-week trip, but everyone seemed in high spirits and well-rested. A few in the group told me about last year's trip, out to Jiuzhaigou, Sichuan province, which had beautiful scenery, I was assured.
Mr Qian may not have been driving Car No. 1, but he led the lunch proceedings, ordering two-and-a-half kilos of beef for the table. He told me a bit about his life during lunch and our few hours on the road together – arriving in Shenzhen by way of Shanghai in 1984, signing offshore oil deals with international companies, building his fortune in power grid equipment, planning his first visit to the US in March to visit his daughter living in Philadelphia. He was slightly heavy, with apple cheeks and ruined teeth, but retained a light charm that probably served him well in the ten thousand banquets I imagined him sitting through in thirty years doing business in Guangdong. He was relaxed and indisputably happy, a man on vacation, after all. After the meal, he handed me his business card. I flipped it over to the English side. It read: "Money Qian – President."
We staggered outside from our gluttonous lunch (heavy with food, not drink, mind you) and the driver in Car No. 1 prodded the group along, lest we miss the three o'clock dance performance in Xiaohuang, still 20 meandering kilometers up the road. It might have been the lethargy of a heavy lunch, the tight time schedule or simply the group's travel style, but there was little interest in the places in between. They had all the freedom of driving but ended up in the same places the tour buses did. On the way to Xiaohuang, whenever we passed through a smaller Dong village along the way, the car slowed and I watched longingly as it slipped by through the tinted window.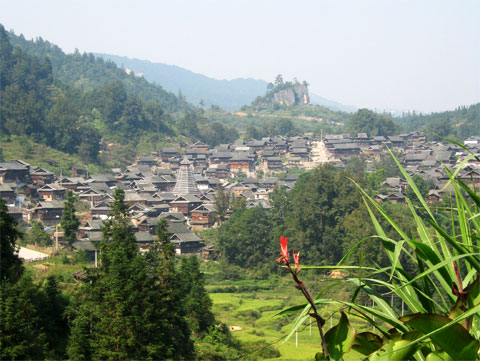 Xiaohuang was a tourist trap as well, of course. Worse, there was nowhere to park. By the time Money Qian found a spot and we'd all paid our entrance tickets, the fifty or so costumed youth had already begun singing in the town square. The October sun was still hot at three o'clock, and tourists thronged and jockeyed for position, bare arms raised with phone cameras. I stood near the back and watched for about ten minutes through the white frame of an iPad recording a movie, held up directly in front of my face. Money Qian snapped a few pictures and retreated to the shade offered by the adjacent buildings. Despite the chaos, the singing was lovely – sweeping multipart harmonies bending toward major chords. It wasn't enough for me though. I thought: there had to be a place better than Xiaohuang.
The performers had begun parading around a tourist in a sedan chair – a wink-wink mock-wedding audience participation – when I found Money Qian and we walked back to the car for my pack. I'll be fine, I told him. No really, I prefer to go on foot for a while, get some exercise. I didn't know it yet, but there was a better place than Xiaohuang just two hours away on foot. I would find my quiet, idyllic village – one of those places in between. I would spend two blissful days living with a local family and soaking in the atmosphere – meandering stone paths, rain-battered wooden buildings with peaked roofs, ducks splashing in clean canals, horse carriages piled with bushels of rice, women with children crawling over their backs, old men on benches whittling.
Standing next to Car No. 2, Money Qian told me the group wouldn't stay long in Xiaohuang either – it was too commercial, just like Basha – and they had to make it to Zhaoxing before nightfall anyhow. We shook hands and I wished Money Qian safe travels back home and on his trip to the US in the spring. I told him to call me if he ever should take a road trip across America, I might have some recommendations.
I had made it only 30 minutes out of Xiaohuang when, sure enough, Cars No. 1 through 8 snaked past me heading north. I like to think they mentioned me on the walkie-talkies.
•
Tom Pellman lives in Beijing and is an editor of the Anthill